Add cashback into Obyte wallet
将返现加到Obyte钱包
1.If you recharge voip credit with Wechat or Aliapy via Paybone, you will have chance to get 10% cashback from Obyte, e.g. 5 USD for 50 USD voip credit recharge; and you will get 20% cashback if recharging with Obyte wallet! An email will be sent to the email address you filled in during recharge, so make sure you fill in correct email address to receive this important email! Check Inbox or Garbage box to find this email, as following:
1.只要从贝骨网站上通过微信或支付宝充值VOIP帐号,即有机会自动获得10%返现. 例如充50美元, 能得到5 美元的返现. 如果通过字节雪球(Obyte)钱包充值VOIP帐号, 则自动获得20%返现! 充值时请务必正确填写邮箱地址, 充值后一封重要的邮件会发到邮箱(收件箱或垃圾箱):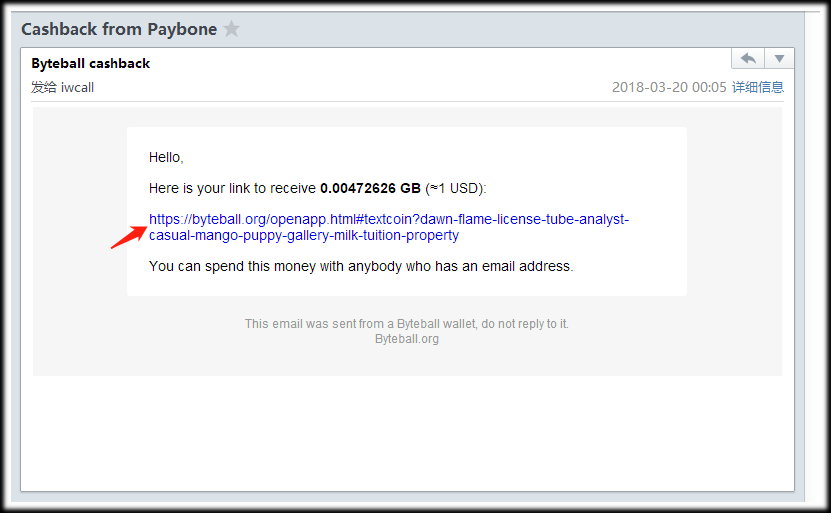 2.Click the reward link inside the email, before that you need Obyte wallet installed. (If link can not be opened, copy&paste 12 words in wallet to deposit, check here for more)
2.先在电脑或手机上安装字节雪球(Obyte)钱包, 点击邮件里的链接会打开如下的网页. (如打不开链接, 可直接复制12个字符到钱包里存入,详图见这里)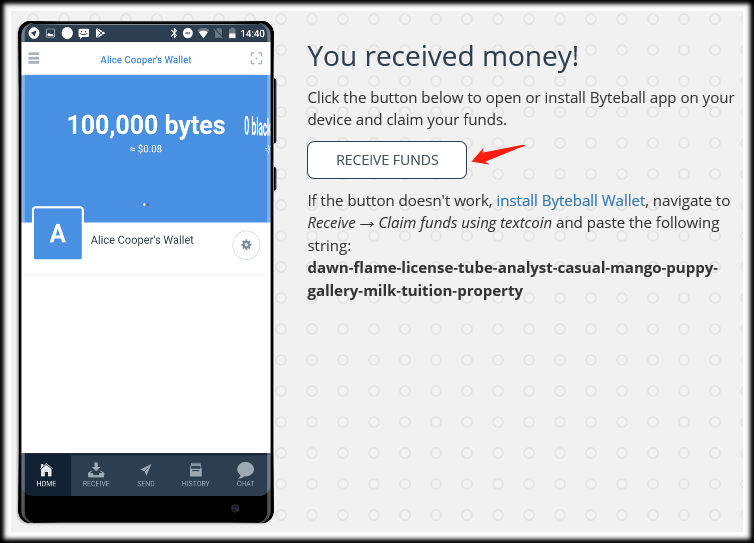 3.You will see an open webpage with "RECEIVE FUNDS" button, click it, your Obyte wallet will be launched and the cashback will be added into your wallet automatically.
3.您会看到一个"RECEIVE FUNDS" 的按钮, 点击即会调用电脑或手机上的Obyte钱包, 并将返现自动加到钱包里.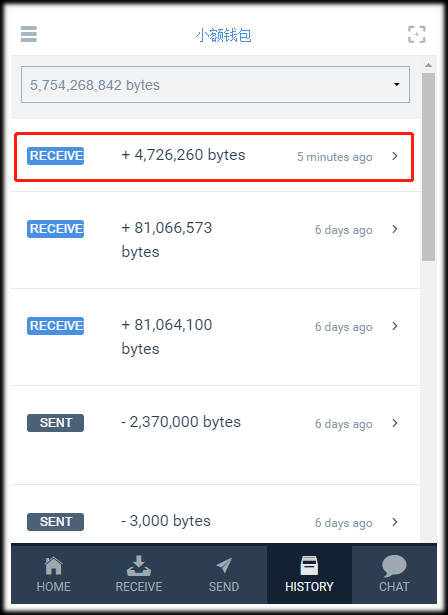 Where to spend the cashback?
You can use these cashback bytes to recharge your voip credit again at here(Euro) or here(USD). Of course, you will get another 20% cashback since you use Obyte's wallet to pay! Alternatively, you can trade your cashback bytes at cryptocurrency trade platform like Bittrex or trade with Bot of Byte-BTC exchange inside wallet.
何处使用返现?
您字节雪球(Obyte)钱包里的返现(Bytes)可以再次充值VOIP帐号,然后还可以再次得到20%的返现! 充值入口请见这里(欧元)或这里(美元). 当然您也可以选择通过数字货币交易所卖出Bytes直接变现, 如Bittrex. 还可以通过钱包内置的Byte-BTC exchange 机器人兑换成比特币.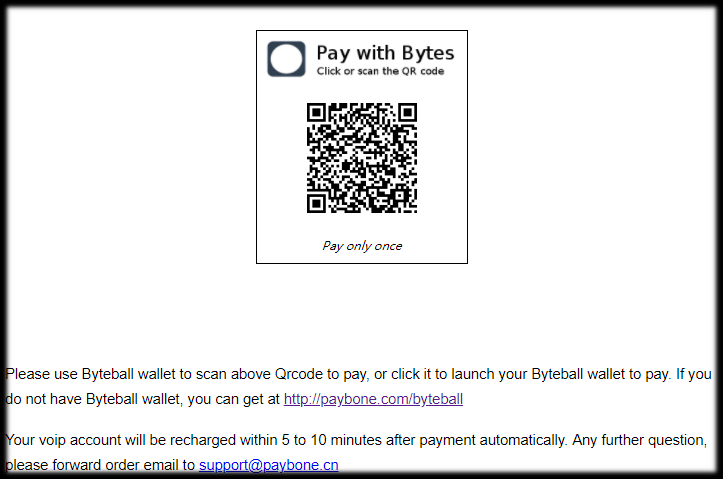 Tips(窍门):
Get your cashback automatically after recharge: : when you do recharge, fill in your Obyte Wallet Receive Address instead of your email address, then after recharge, cashback will be sent into your wallet automatically! (Obyte receive address is under RECEIVE menu in Obyte wallet), see pictures below:
最简便的自动返现方法: 充值时在邮箱地址那里直接填你的字节雪球地址, 充值成功后返现金会自动充到你的字节雪球钱包里. 字节雪球地址在钱包里的"接收"菜单里可直接点击复制.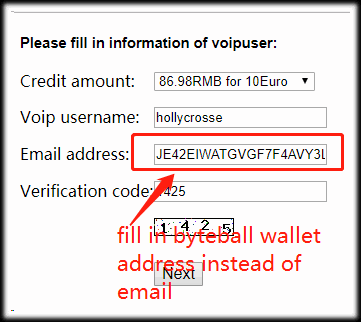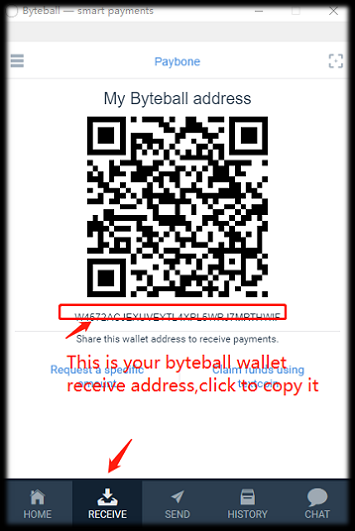 Where to buy bytes of Obyte bytes directly?
Since you can get 20% cashback when you use Obyte's wallet to recharge voip account, we provide you the ways to purchase bytes.
Recommend: You can buy textcoin voucher of Obyte online at here, and use it to topup credit in your Obyte wallet(Receive--Claim funds using textcoin), then recharge your voip online and get 20% cashback immediately.

You can buy bytes via credit card inside Obyte wallet -- Bot Store (under CHAT)--Buy Bytes with Visa or Master (you need to attest your real name first with 'Real name attestation bot');

Buy from cryptocurrency trade platform like

Bittrex;

Trade with Bot of Byte-BTC exchange inside wallet.

Free way to get bytes: Register account at

WCG--Add "World Community Grid linking bot" in Bot Store of CHAT menu and chat with bot to link your WCG account -- contribute your computer's free power to get bytes.
如何直接购买字节雪球?
因为用字节雪球充值可得20%返现, 这里列出购买字节雪球方法.
推荐:我们提供在线实时购买字节雪球文本币的平台, 购买成功后充值到您的Obyte钱包(接收--使用文本币取回资金), 然后就可以在线充值voip了, 充值成功后20%返现会马上返还到您的钱包中.

钱包里用信用卡直接购买, 钱包--'对话'菜单下Bot Store--

Buy Bytes with Visa or Master(先要通过实名认证 'Real name attestation bot'

);

从交易所购买, 如

Bittrex;

通过钱包内置的Byte-BTC exchange 机器人兑换.;

免费获得雪球的方法:到WCG注册帐号--在钱包的Bot Store里填加"World Community Grid linking bot"并绑定你的WCG帐号--贡献你计算机的空闲算力,自动得到雪球。